SERVICE DESK
Simple IT service management.
ITIL-BASED FUNCTIONALITY
Built-in service excellence.
Simple to deploy and simple to use, GoToAssist Service Desk makes it easy to implement ITIL best practices.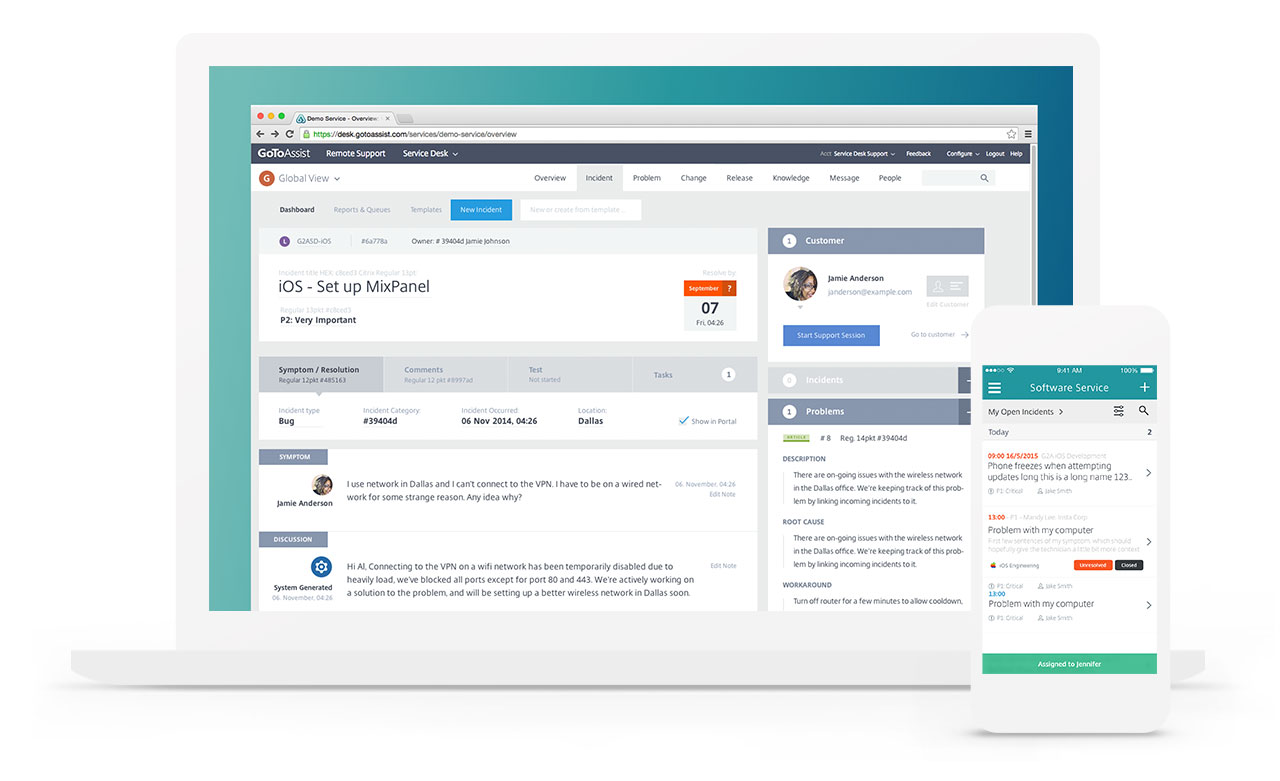 CUSTOMER PORTAL
Full self-service support.
GoToAssist Service Desk lets you create online support portals so customers have a quick, simple way to find answers and get help.
REPORTS AND QUEUES
Eagle-eye views of all your information.
Your entire team can keep their fingers on the pulse of the help desk with centralized, comprehensive documentation and reporting.
Customizable Dashboards
Stay in the know and in control with dashboards. See what's been happening to your services and who's been doing what.
Powerful Reporting
Set up an email schedule for automatic reporting on everything from SLA compliance to customer satisfaction to incident statistics.
Time Tracking
Record your teams' hours on incidents, problems, changes or releases to make billing a breeze. You can also record general time entries.
AUTOMATION AND INTEGRATION
A smarter way to work.
GoToAssist Service Desk seamlessly integrates into your existing workflow, removing redundancy and saving time.
Automated Triggers
Simplify your workflow with customizable rules that automatically initiate an action when a specific event occurs.
Email Integration
Create incidents via email and reply to email notifications of record updates — perfect for your customers and for you when you are out.
Developer API
Use the comprehensive developer API to easily integrate Service Desk with your business systems for extra efficiency.
SERVICE DESK PLANS & PRICING
Simple software meets simple pricing.
Includes unlimited support, free upgrades and no hidden costs whatsoever.
Monthly
One low price without a commitment
/Per Technician
Billed Monthly
Buy It Now
Yearly
Save 20% over the monthly plan
/Per Technician
/Billed Annually*
Buy It Now
Talk to a Specialist
Find the perfect suite of tools for your business or industry.
+1 (833) 564-4357
Contact Sales
We are here to help your business grow.
Contact Sales
FAQs
Check out our help center for answers to common questions.
View Topics
Free 30-Day Trial
Need more information?
Call +1 (833) 564-4357