INTRODUCING GoToAssist
Radically Refreshing Remote Support
Faster, Frictionless, and Better Than Ever
Keep customers and remote employees on-the-move with a remote support experience that's better for both agents and end users alike. With GoToAssist, it's easier to resolve issues fast and without frustration, to get customers and employees back to doing what matters.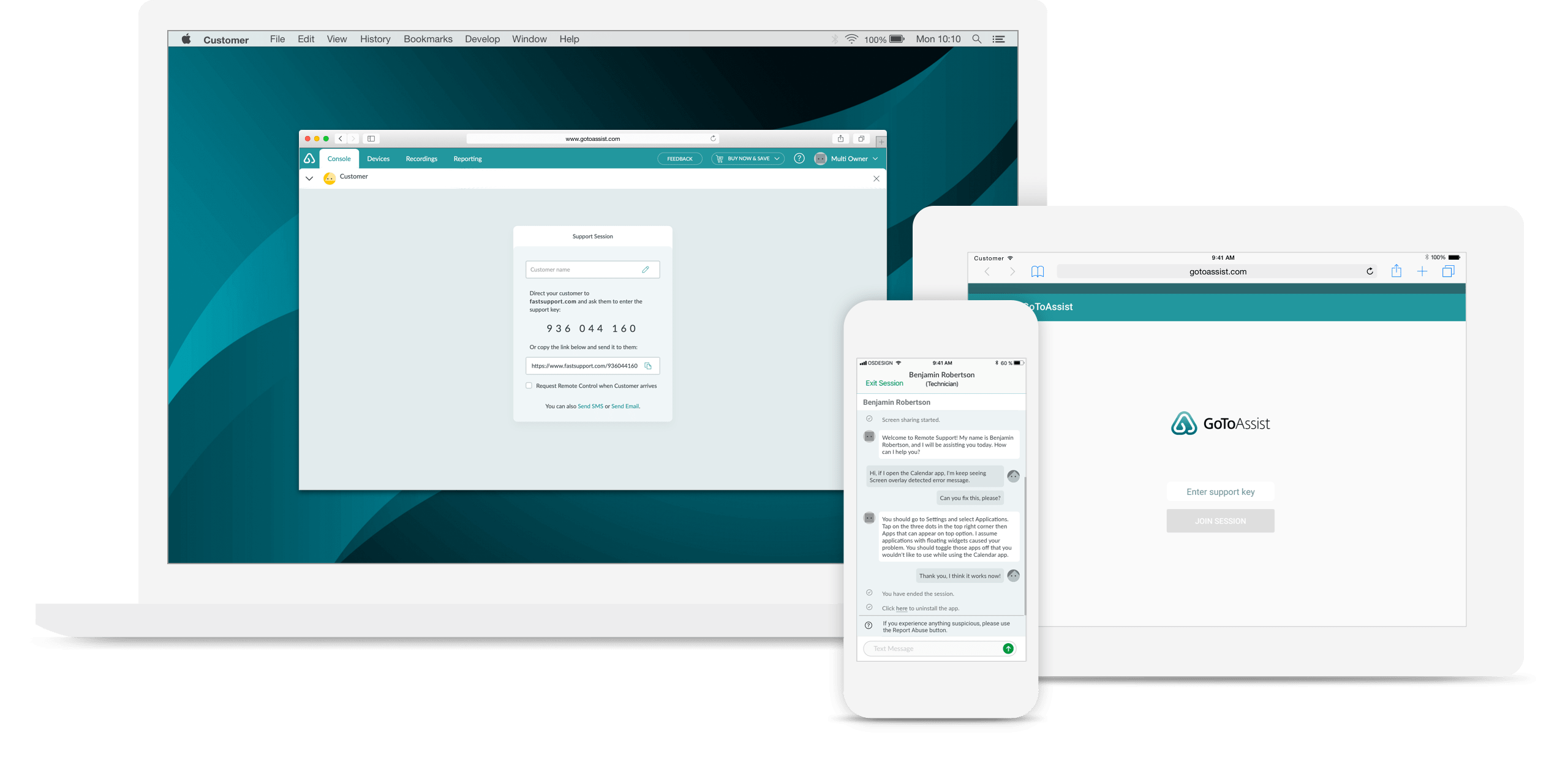 WHY GoToAssist
Remote support software you can count on.
GoToAssist, will be there for you. So you can be there for your customers.
Agent Console
Quickly and easily start a support session from the browser or desktop app.
File Transfer
Securely send and receive files in a live or unattended support session, which is useful for applying patches, updates and more.
Remote Diagnostics
Easily access your customer's system information, including hardware and software configuration.
Multi-Monitor Navigation
Easily switch or scroll between all of your customer's monitors.
Multi-Session Support
Host up to 15 sessions simultaneously per technician.
Slack Integration
Put your IT Help Desk in a familiar place where employees are already working
GOTOASSIST PLANS AND PRICING
Simple software meets simple pricing.
Includes unlimited support, free upgrades and no hidden costs whatsoever.
Monthly
One low price without a commitment
Per Technician
/Billed Monthly
Buy It Now
Yearly
Save 20% over the monthly plan
Per Technician
/Billed Annually*
Buy It Now
MOBILE REMOTE SUPPORT
Support for mobile devices. At home or on-the-go.
GoToAssist lets you remotely support mobile devices to keep end users connected wherever and whenever.
View and control Androids
Unattended access of Android devices
Talk to a Specialist
Find the perfect suite of tools for your business or industry.
+1 (833) 564-4357
Contact Sales
We are here to help your business grow.
Contact Sales
FAQs
Check out our help center for answers to common questions.
View Topics
Free 7-Day Trial
Need more information?
Call +1 (833) 564-4357