RESOURCE CENTER
Remote Support Made Easy
GoToAssist helps you resolve technical issues by instantly delivering web-based support to customers, end users, unattended computers and servers.
TOP GOTOASSIST RESOURCES
GoToAssist built for business.
These popular resources are chock-full of great advice and industry insights.
STAFF PICKS
Check out what our team recommends.
How GoToAssist beats TeamViewer for productivity
If productivity is important to you, GoToAssist remote support software is by far a better choice than TeamViewer.
Download the PDF
Why you should choose GoToAssist over ConnectWise Control
To provide great support, you need great tools. That's why your best choice is GoToAssist remote support software from LogMeIn.
Download the PDF
Top 10 Ways Support Will Change by 2020
Aberdeen Group recently looked at how new technologies and trends in mobile and live interactions are transforming support.
Download the PDF
Customer Story: Element Data Group, LLC
Element Data Group provides IT services to approximately 35 law firms in the Minneapolis/St. Paul metropolitan area of Minnesota.
Download the PDF
Customer Story: Bowmer & Kirkland
GoToAssist provides remote support for a multi-national construction and engineering company.
Download the PDF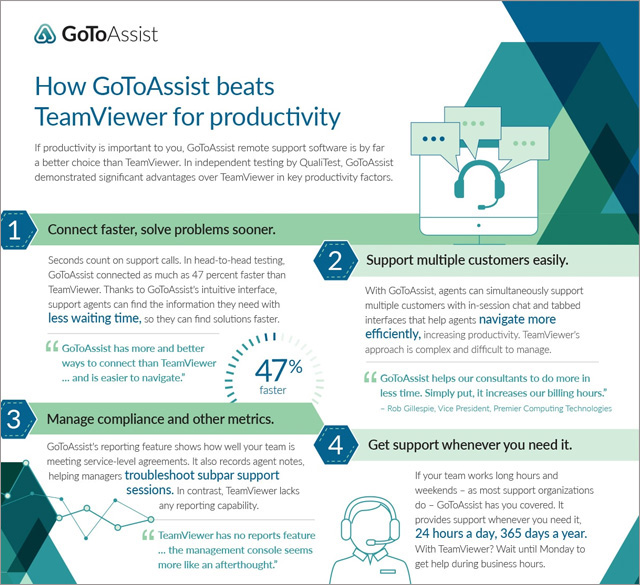 Talk to a Specialist
Find the perfect suite of tools for your business or industry.
+1 (833) 564-4357
Contact Sales
We are here to help your business grow.
Contact Sales
FAQs
Check out our help center for answers to common questions.
View Topics
Free 7-Day Trial
Need more information?
Call +1 (833) 564-4357