WHY GOTOASSIST
Radically Refreshing Remote Support
Finally, remote IT support that is frictionless for both agents and customers. How refreshing.
GOTOASSIST IS BACK
The solution you love is better than ever.
Our customers have spoken and love for GoToAssist wins the day. Back by popular demand, RescueAssist has become GoToAssist. Still lightweight, fast, and frictionless, the new and improved solution takes your feedback to heart, offering you a choice of a modern web browser or desktop console. Because delighting your end-users begins by delighting your agents with a remote support solution they love.
FRICTIONLESS CONNECTIONS
Delightful support is no longer a unicorn.
Let's face it. Getting support isn't your customer's favorite thing to do, especially when simple issues take too long to resolve. We reimagined the remote support experience to be much more lightweight. A simple plugin allows the agent to view the customer's screen through any modern web browser or the downloadable desktop application. And if the session requires remote control, there's still no need to dig for a download or jump platforms.
Discover Right-Fit Remote View & Remote Control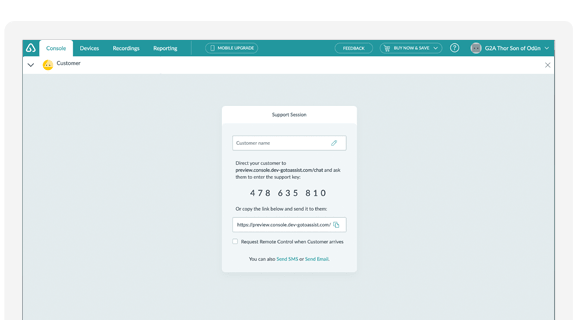 FLEXIBLE AGENT CONSOLE
Always updated. Always ready.
Speed and security are top priorities. GoToAssist takes advantage of the newest technology so that you can choose the interface you prefer - a web-based agent console or a downloadable desktop console. Simple, and lightweight, the agent console is designed to make the support experience faster, more secure, more reliable, and able to support for more platforms. In-product messaging guides agents every step of the way.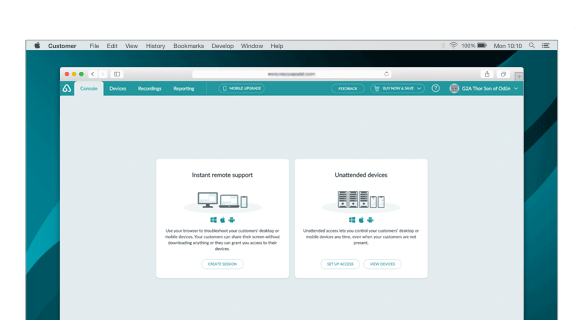 MOBILE DEVICE SUPPORT
Keep end-users on the go.
The world is only getting more mobile. Ensure your organization can support end-users no matter what device they're on. GoToAssist enables remote view of iOS devices and Android devices plus remote control of Android devices, so technicians can troubleshoot issues from the same web-based console that they're already using for desktop support.
Expand Your Mobile Support Capabilities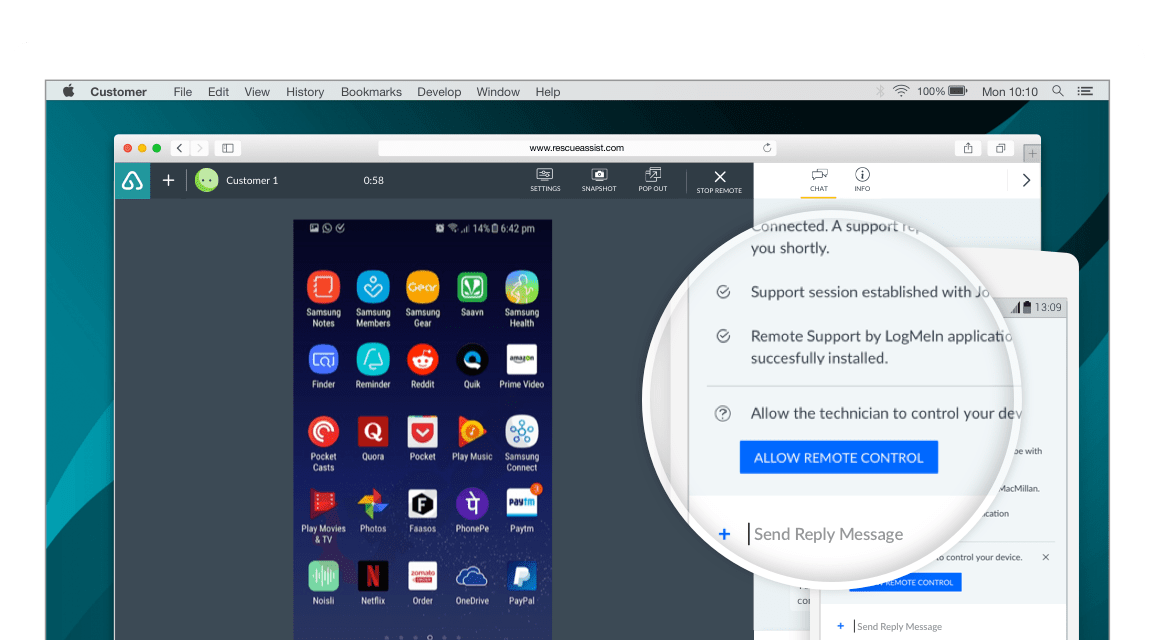 MESSAGING APPS
Go with the workflow.
Keep your organization humming by offering internal IT support where employees are working every day. GoToAssist integrates with third-party messaging applications, like Slack, to make it easy for employees to reach out for help in a fully familiar environment.
More about Messaging
Talk to a Specialist
Find the perfect suite of tools for your business or industry.
+1 (833) 564-4357
Contact Sales
We are here to help your business grow.
Contact Sales
FAQs
Check out our help center for answers to common questions.
View Topics
Free 7-Day Trial
Need more information?
Call +1 (833) 564-4357