SERVICE DESK FEATURES
Ticketing & Incident Management
Log, track and route issues to quickly restore your customers' service.
HOW IT HELPS
Restore operations. Reduce impact.
An incident is an unplanned event that affects the quality of your service. And through Service Desk, you can ensure these interruptions don't last. You get a clear view of each ticket's priority, deadline and progress so you can stay on top of your service level agreements (SLAs) — and get your customer back up and running fast.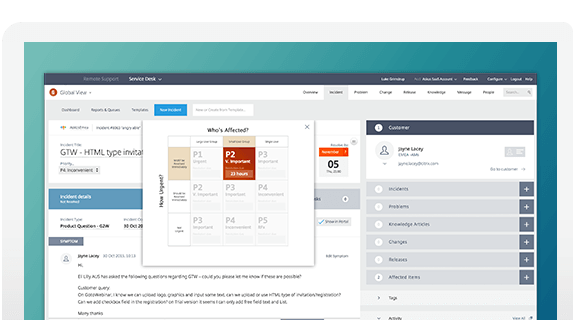 WHAT YOU CAN DO
Submit and manage incidents.
You can create incident records in seconds that detail which service is affected, who it's assigned to, what tasks should be done and when it should be resolved. You can also add contextual information and custom fields to capture everything you need to know. All open incidents show up in your dashboard, where you can see the highest priority issues at a glance.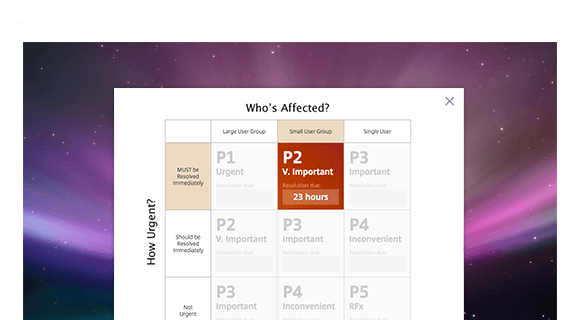 FOR YOUR CUSTOMERS
Report an issue easily.
Each Service Desk account comes with a simple online portal where customers can enter their own tickets. You can choose which questions show up on the form, and the information is automatically added to your incident records. Customers can then track the submission and stay in touch with you through the entire resolution process.
USEFUL TO KNOW
Start remote support sessions in a click.
If you've signed up for GoToAssist Remote Support, be sure to take advantage of its integration with GoToAssist Service Desk. Right from your incident record, you can instantly launch a remote support session and invite a customer to join you. And after the session ends, the notes automatically feed back into Service Desk for easy tracking.
RELATED FEATURES
Learn more about GoToAssist Service Desk features.
Online Help Desk
Set up an easy-to-use portal where customers can create tickets, track progress and provide feedback.

Talk to a Specialist
Find the perfect suite of tools for your business or industry.
+1 (833) 564-4357
Contact Sales
We are here to help your business grow.
Contact Sales
FAQs
Check out our help center for answers to common questions.
View Topics
Free 30-Day Trial
Need more information?
Call +1 (833) 564-4357