SERVICE DESK FEATURES
Powerful Reporting
Run automatic and custom reports on your services, users and customers.
HOW IT HELPS
Know your services inside out.
Are you living up to your service-level agreements? With Service Desk, you know the answer. Your incident statistics are available at a glance, and you can dive deeper into all of your account activity to understand just how your team is doing.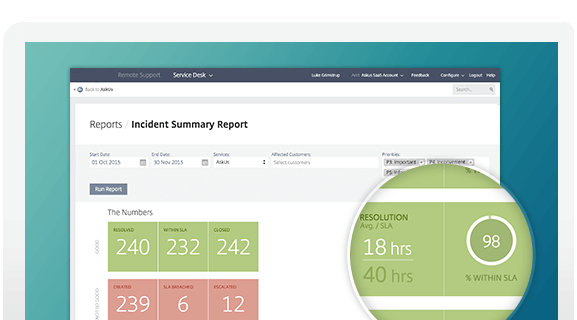 WHAT YOU CAN DO
Pick a report or create your own.
You can easily generate reports for each record type (incidents, problems, changes and the like). Customize the dates, people and statuses to get the range you're looking for. Or, if you want instant insights, you can check pre-configured service summaries for graphs, charts and tables full of information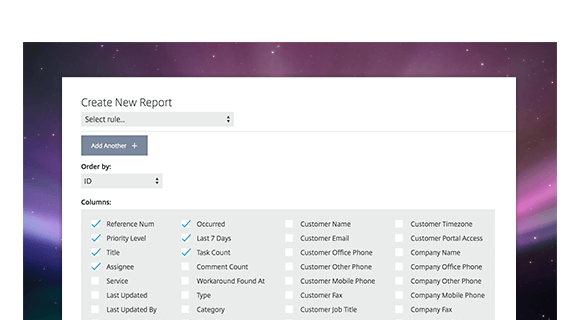 FOR YOUR CUSTOMERS
Good reporting ensures good service.
Service Desk makes it easy to keep an eye on your support team's performance. With reports for SLA compliance, satisfaction ratings and more, you'll understand what you're doing well — and what you aren't. Use that information to take action and provide better support to your customers.
USEFUL TO KNOW
Take your report to go.
You can export your results as a .CSV file in seconds, and it's up to you which numbers you want to include. You can also email reports to yourself with a click. Even easier, you can set them to run automatically and send the results right to your inbox on a recurring schedule.
RELATED FEATURES
Learn more about GoToAssist Service Desk features.
Talk to a Specialist
Find the perfect suite of tools for your business or industry.
+1 (833) 564-4357
Contact Sales
We are here to help your business grow.
Contact Sales
FAQs
Check out our help center for answers to common questions.
View Topics
Free 30-Day Trial
Need more information?
Call +1 (833) 564-4357