SERVICE DESK FEATURES
Configuration Management
Create records of configuration items and their relationships for easy impact assessment.
HOW IT HELPS
See what affects what.
Configuration items can be any company, individual, location, software or device associated with your services. When you add enough to your configuration management database (CMDB) in Service Desk, you can build a web of relationships between them. This helps you understand your IT environment and how issues might impact assets.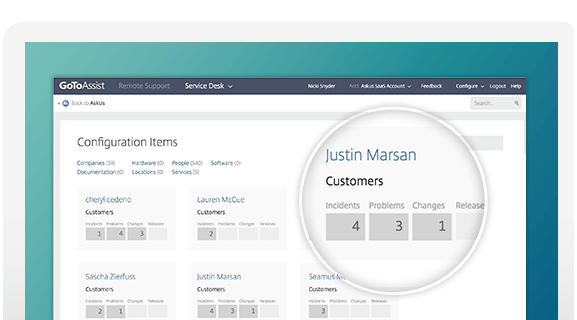 WHAT YOU CAN DO
Create complete records.
You can add new records for configuration items one at a time or in bulk. Pick the right category, customize the attributes and then set the relationships to get a clear picture of your systems and services. Once created, you can even track which incidents, problems and changes are connected to your configuration items.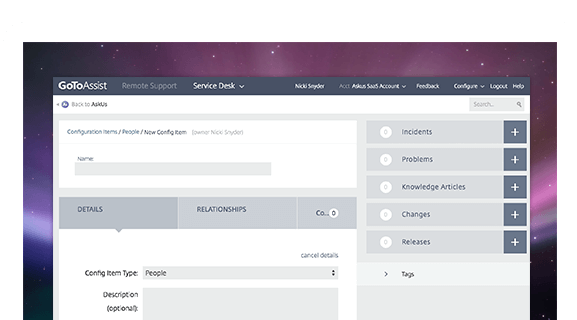 FOR YOUR CUSTOMERS
Manage your outages.
With your Service Desk CMDB, you can quickly determine the scope of an outage and which customers and users are affected. Technicians don't need to waste time hunting the data down, so they can work fast to restore your services and reduce the impact on customers.
USEFUL TO KNOW
How things interlink.
Configuration items in Service Desk are connected by different types of common relationships, which also have different strengths. Hard relationships define items that are directly affected when the other is out of commission. Soft relationships link items that aren't so dependent on one another. Service Desk makes these connections easy to see by providing relationship maps for each configuration item.
RELATED FEATURES
Learn more about GoToAssist Service Desk features.
Talk to a Specialist
Find the perfect suite of tools for your business or industry.
+1 (833) 564-4357
Contact Sales
We are here to help your business grow.
Contact Sales
FAQs
Check out our help center for answers to common questions.
View Topics
Free 30-Day Trial
Need more information?
Call +1 (833) 564-4357