SERVICE DESK FEATURES
Change Management
Plan, build and test changes to your services to ensure seamless updates.
HOW IT HELPS
Easily keep track of changes.
Changes, called "Request for Changes (RFC)" in ITIL, are actions that modify a service or any of its components. Service Desk helps you justify their time and expense while streamlining the management process. It uses built-in approvals and consistent workflows to minimize the business impact, so you can plan and make changes with confidence.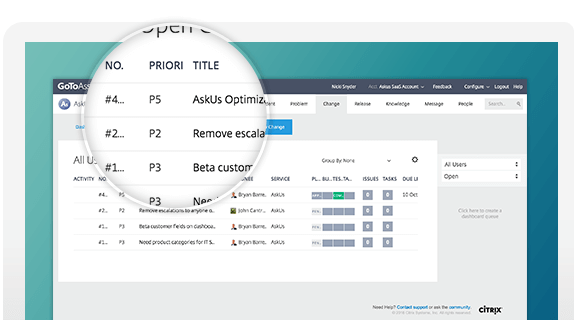 WHAT YOU CAN DO
Go through the change lifecycle.
Service Desk handles changes in phases: planning, approval, building and testing. Your team can collaborate to plan the change, post updates as the new design is built and then review and test the implementation. You can also link it to related incidents, problems and releases to create a clear audit trail.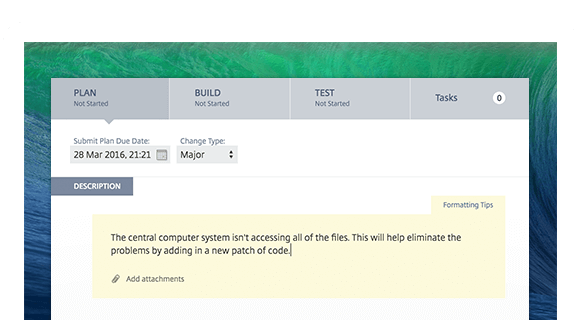 FOR YOUR CUSTOMERS
Reduce disruption.
Your customers rely on your services. That means any change you make will have a real effect, so make sure it's a positive one. Service Desk helps you implement changes in a tightly controlled manner to shorten or even prevent service interruptions.
USEFUL TO KNOW
Assign tasks to technicians.
For each change, you can quickly build a list of necessary tasks and assign the right technicians. They will receive an automatic notification, and you can then keep an eye on their statuses to see how the change is coming along.
RELATED FEATURES
Learn more about GoToAssist Service Desk features.
Talk to a Specialist
Find the perfect suite of tools for your business or industry.
+1 (833) 564-4357
Contact Sales
We are here to help your business grow.
Contact Sales
FAQs
Check out our help center for answers to common questions.
View Topics
Free 30-Day Trial
Need more information?
Call +1 (833) 564-4357